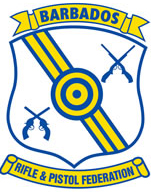 Barbados Rifle and Pistol Federation Inc., was originally formed in 1908 as The Barbados Miniature Rifle Club, in 1934 the name was changed to Barbados Small Bore Rifle Club, in 1969 The Barbados Rifle and Pistol Club and in 1976 The Barbados Rifle and Pistol Federation. The organization incorporated in 1994 to become The Barbdos Rifle and Pistol Federation Inc. as it is known today.
Today the club is a non-profit organization with a governing council of nine persons and offers its members several shooting disciplines:
International Shooting Sport Federation (I.S.S.F.), otherwise known as Olympic Shooting disciplines: Air Rifle, Air Pistol, Rim Fire (.22), Standard Pistol, Free Pistol, .22 Long Rifle in Prone and Three Position.
International Practical Shooting Confederation (I.P.S.C.) large caliber practical shooting.
Service Pistol. This style of shooting is no longer prevalent in competition and has its roots in Law Enforcement marksmanship training from the UK.
B.R.P.F Inc. is affiliated to : National Small Bore Rifle Association Club No. 1050, National Rifle Association of America Club No. B 1968 and IPSC.
We offer to the puiblic self defense training and NRA as well training for security personell. Training in all the sporting disciplines we facilitate, is in-house. There are 9 NRA Certified Instructors as well as Olympic Qualified Instructors, NRA Range Officers, Level I and Level II IPSC Range officers and a Black Badge Certified instructor.
We hope you enjoy your online visit and look forward to seeing you on the range.